Hunts Point Branch
New York Public Library

Mitchell Giurgola Architects (2016-2019)
Bronx, New York
Exterior Photograph
Commission: to design a renovation of a branch of the New York Public Library
Located in the Bronx, the Hunts Point Branch, designed by Carrere and Hastings in 1927, is a beautiful example of the refined neoclassical approach. The parti is simple yet effective, two grand reading rooms stacked on top of each other with ancillary spaced moved to the back of the site. The team at Mitchell Giurgola was tasked with restoring the existing facade including window replacement, a new ADA compliant entrance ramp, and repairing and repointing of the brick facade.
On the inside, new white oak floors will be complimented with surrounding custom white oak bookshelves, built in window benches, custom white oak chairs and reading tables, and black terrazzo stairs. Once completed, the much needed overhaul will offer state of the art technological resources, meeting spaces, and beautiful reading rooms for Adults, Teens and Children, all in a clean and contemporary design that pays homage to the century old library traditions.
Responsibility
Schematic Design through Construction Documents
Design Team
Architect
Mitchell Giurgola Architects
Consultants
Superstructures (Restoration)
LERA (Structural)
JFK&M (MEP)
Cerami (AV/IT)
Cline Bettridge Bernstein (Lighting)
Conversano (Code)
IROS (Elevator)
---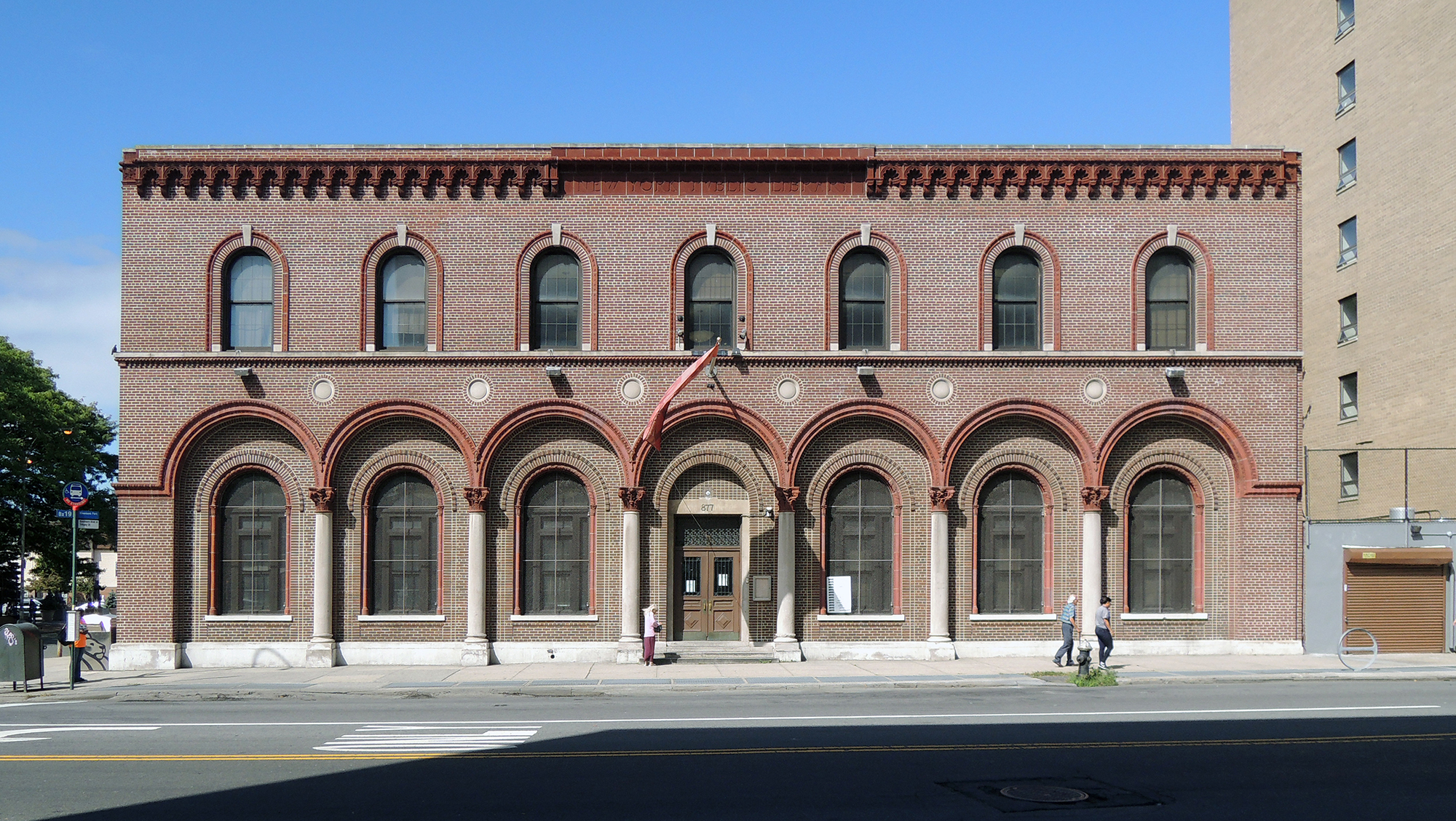 Southern Boulevard Elevation - Existing
Tiffany Street Elevation - Existing
Southern Boulevard Elevation - Restored

The new Southern Boulevard Elevation reflects a return to the historic double hung wood windows and features a new limestone entrance ramp. The reading room employs traditional wood shelving wrapping the room with huge new windows to match the original. The space is filled with a thoughtful mixture of computer workstations, long communal tables, and clusters of lounge chairs. A new glass vestibule is introduced at the entrance, simple in form so as to not detract from the grand volume of the room.
Interior Perspective - Courtesy of Mitchell Giurgola Architects
---
Library Projects