Melrose Branch
New York Public Library

Mitchell Giurgola Architects (2016-2019)
Bronx, New York
Exterior Rendering
Commission: to design an addition and renovation of a branch of the New York Public Library
Project Status
Ongoing
Read More
New York Public Library ︎︎︎
The Melrose Branch, originally built in 1914 and designed by Carrere and Hastings, suffered from a severe fire in 1959 that burned the upper floors. Surviving until now with only modest reconstruction and repairs, this branch was overdue for a major redesign.

Similar to how the punched windows below continue in a regular pattern across the facade, the newly proposed window wall rhythmically runs across the street facades. It is capped with a deep aluminum fascia above to create a modern-day cornice.
Responsibility
Schematic Design through Construction Documents
Design Team
Architect
Mitchell Giurgola Architects
Consultants
Superstructures (Restoration)
LERA (Structural)
JFK&M (MEP)
Cerami (AV/IT)
Cline Bettridge Bernstein (Lighting)
Conversano (Code)
IROS (Elevator)
---
The existing condition needed another floor addition not only to satisfy growing programmatic requirements, but also to restore the proportions of the building closer to the balance and composition that the original neoclassical design had.
Mullion caps extend deep outside the glass, further accentuated at the round internal columns that coincide with the window spacing below. The existing punched windows are replaced with large clean windowpanes with minimal mullions.
The lower two floors housing the Adult and Teen reading rooms follow the NYPL Carnegie Design Standards developed by Mitchell Giurgola and used on the
Hunts Point Branch
, including white oak floors and custom books cases with built in benches at windows. The spaces are furnished with custom white oak reading tables and chairs. A three-story steel and black terrazzo stair connects the main reading rooms in a simple white volume punctured by vertical strip LED lights to accentuate the lofty space.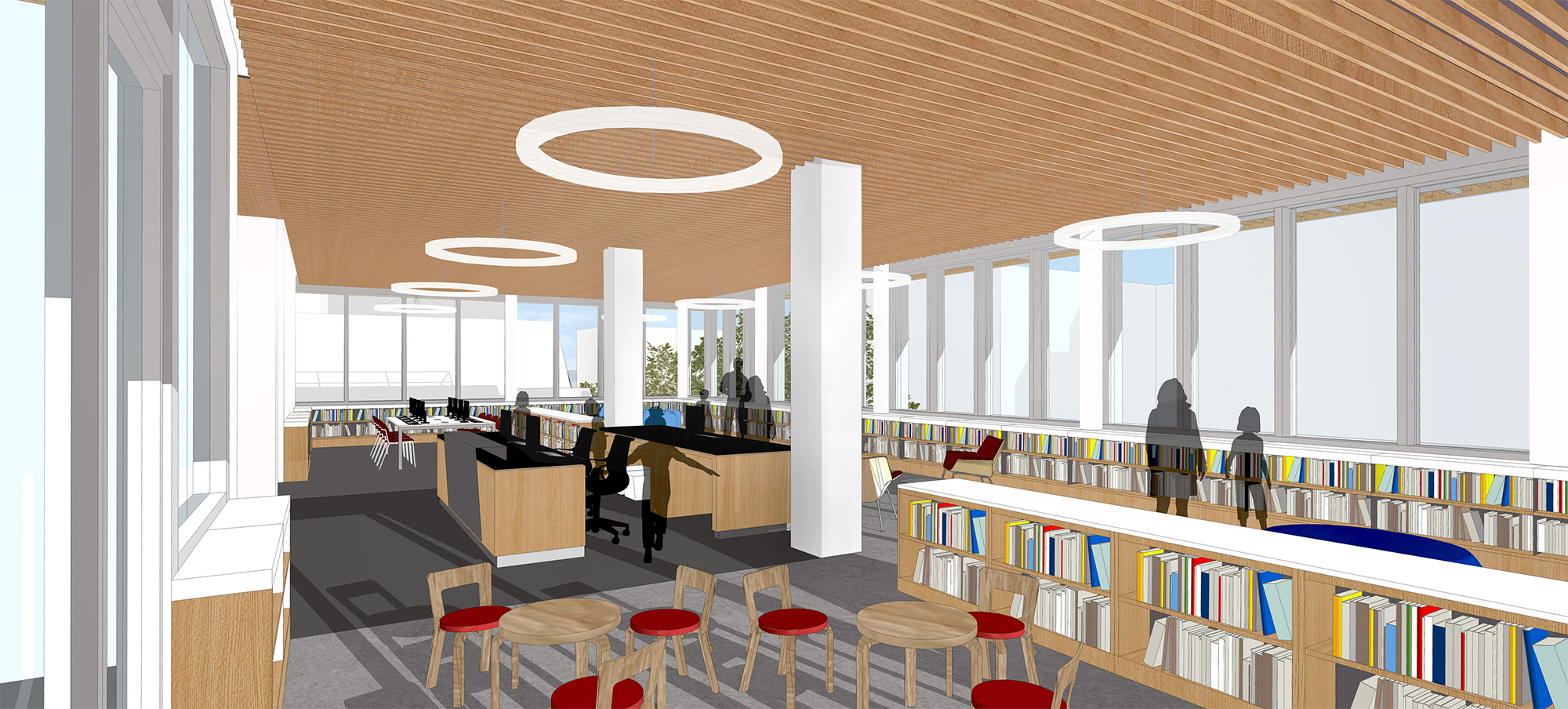 Children's Room Interior Perspective
Early in the design process, the top floor reading room was reserved as the children's floor to offer abundant natural light and the opportunity for lower sills to see out of. The children's reading room also features a wood slat ceiling to convey the warm wooden interiors to the street.

---
Library Projects